Our Catholic Life
Our Newman Staff Prayer
God knows me and calls me by my name;
God has created me to do Him some definite service;
He has committed some work to me which He has not committed to another;
I have my mission.
May the Lord guide us and support us in our service to all the children in our care.
Amen
Confirmation
Confirmation retreat
Confirmation Workshop
Good Shepherd Mass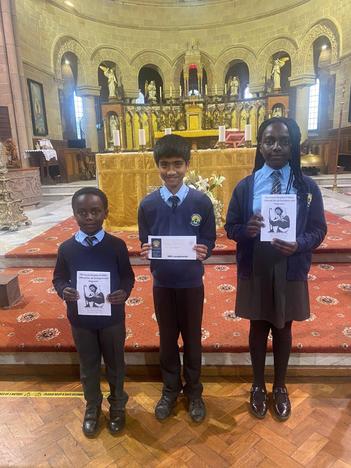 Crowning of Mary
We attended Mass with our Parish family and held our May Procession where we crowned Mary and adorned her with flowers. We devote the month of May to Mary and honour her.
O Mary we crown thee with blossoms today,
Queen of the Angels and Queen of the May.
Stations of the +
CAFOD Big Lent Walk
Our Cafod Lent walk raised £82.00. During this we focussed on the Catholic Social Teachings (CST) of Participation, Human Dignity, Solidarity and preferential option for the poor. We participated in the walk to support those in our world who live in poverty in a hope that our donation will help to provide access to water, food and housing.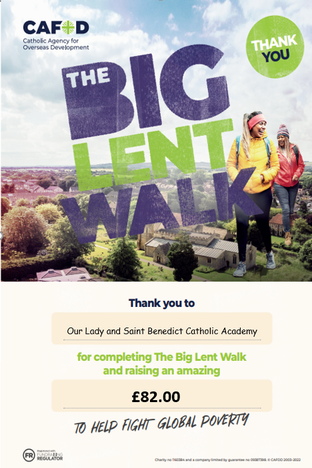 Faith Workshop Stoke On Trent 2023
A new commandment I give to you, that you love one another; even as I have loved you, that you also love one another. By this all men will know that you are my disciples, if you have love for one another." John 13:34-35
Turkey Earthquake Appeal
Loving God, ​
we pray for our sisters and brothers in Turkey and Syria.​
For those who have lost so much,​
and for those who are homeless, hungry or in pain.​
​
Give strength to those working to help.​
May they bring comfort to those who are sad.​
Help us to do what we can​
so that no one feels forgotten.​
Help us to work together​
to bring new hope.​
Amen
CAFOD VISIT
World Faiths 2023
No colour, no religion, no nationality should come between us, we are all children of God. – Mother Teresa
Faith Displays
One Life Music
Confirmation Commitment Mass
Christmas Play 2022
Harvest 2022
Rememberance 2022
Queen -Final Goodbye
Several of our school staff travelled to London and left flowers and prayers written by the children outside Buckingham Palace in memory of the Queen- Britain's Longest serving monarch. These were laid on behalf of all of the OLSB school Community. I would like to express my gratitude to all of the staff involved and am so deeply humbled that our school community were able to pay their respects.
Eternal rest, grant to her O Lord, And let Perpetual light shine upon her. May she rest in peace. Amen.
Combined Schools Mass
Pupil Discipleship
As Christians we are called from Jesus to go make disciples teach and baptize. Through pupil leadership we are living as disciples at Our Lady & St Benedict. Our Benedict Best pupils help support the Senior Leadership team in addition to all of our pupils who actively engage in preparing and leading both collective worship and prayer.
Advent
First Holy Communion
May Procession 2022
80th Anniversary Celebration Mass
Our Lady & St Benedict school and parish was visited by Archbishop Bernard to join in with the 80th celebration mass.
Please click here to view the article published on the Birmingham Diocese website.