Catholic Social Teaching
Pope Francis asks us to, "Take the path of our God who teaches us to meet him in the hungry, the thirsty, naked, the sick, the friend in trouble."
Using these words we follow the Catholic Social Teaching principles.
Catholic social teaching (CST) is rooted in Scripture, formed by the wisdom of Church leaders, and influenced by grassroots movements. It is our moral compass, guiding us on how to live out our faith in the world. Our faith calls us to love God and to love our neighbours in every situation, especially our sisters and brothers living in poverty. Following in the footsteps of Christ, we hope to make present in our unjust and broken world, the justice, love and peace of God.
In school we use the following nine principals:
Human Dignity
Participation
Subsidiarity
Stewardship
Solidarity
Preferential option for the poor
Distributive Justice
Promoting Peace
To support the children each principle is illustrated with two images. These images aim to provide a visual connection with the principle.
The animal mascots are used with EYFS, KS1
The keys are introduced in the resources in Key Stage 2.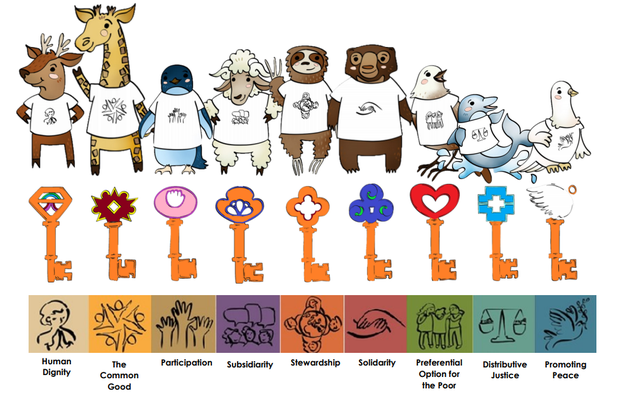 For further information about Catholic Social Teaching. Please see the document below.